FREE training is available with special discounts on enrolment from all Blackbeltschools.com instructors
Instructor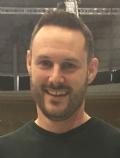 Richard Latham
7th Dan
Notes
Richard opened the Warminster TAGB Tae Kwon-Do school on Friday 13th September 2002.
The junior classes, for children of primary school age, are fun and educational and will help develop your childs confidence, physical activity levels, concentration and discipline. Through Tae Kwon-Do, children will learn the ABC of fitness - Agility, Balance and Co-ordination and will have set goals to work towards. The key to these classes are self improvement.
The senior classes, for adults and secondary school children, are enjoyably challenging and will build your fitness, help you shape up or lose weight and give you an awareness for self defence purposes.

ALL LESSONS ARE SUITABLE FOR COMPLETE BEGINNERS NO MATTER WHAT YOUR LEVEL OF FITNESS OR ABILITY.