The Tae Kwon-Do Association of Great Britain
The TAGB was founded in 1983 and is now the largest single Tae Kwon-Do body in Great Britain.
It is a member of the BritishTae Kwon-Do Council (BTC), Tae Kwon-Do's umbrella organisation approved by the Sports Council. Not only does the TAGB enjoy formidable representation on the BTC, but its members are widely regarded as amongst the most successful competitors in just about any martial arena, whether under points, semi-contactor full contact rules.
The TAGB is a founder member of Tae Kwon-Do International, the world governing body for all forms of Tae Kwon-Do practice, and practices Tae Kwon-Do deriving from the Chang Hun style,originated and developed by that most influential of early international Tae Kwon-Do pioneers Major General Choi Hong Hi.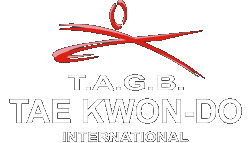 The TAGB has over 600 Tae Kwon-Do schools across Great Britain, with over 25,000 licensed members, and holds regular championships throughout Great Britain, as well as international tournaments.
Visit the Official TAGB website