Thinking about Joining?
Our award winning children's programme
will teach your child core values such as discipline and respect. By starting at an early age, they will develop positive habits to last a lifetime. We believe in bringing out the best in your child and have designed our classes to be entertaining and informative. Your child will learn…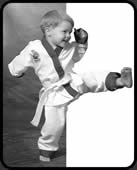 Self confidence, self control and self discipline
Respect for adults and for each other
The value of setting goals and working towards them
Non-violent techniques in conflict-resolution
How to overcome a bully or gang situation
Children who acquire self-confidence at an early age are far more likely to succeed in their adult ambitions. Martial Arts training is arguably the best method of instilling confidence into children and at the same time emphasises the importance of respect and discipline. As a result of the fast and exciting nature of Martial Arts there are thousands of children participating throughout the UK. And worldwide there are millions.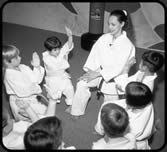 Children see Martial Arts training as the ultimate activity, in our classes everybody wins, it's not just who's the best gets to play.
Our system of training is based on inner development and self-expression; concentration, focus, goal setting, self-achievement are the topics of discussion. Motor skill development, co-ordination, flexibility and self-awareness are the basics to the physical training.
Children learn to reach their full potential through our confidence building martial arts program. Caring Instructors provide expert training in a fun and safe environment to produce positive results.

FREE training is available with special discounts on enrolment from all Blackbeltschools.com instructors - Please contact the instructor for details